Watch Braydon Bringhurst's Film '8600FT'
Climbing mountain biking's iconic 'Whole Enchilada' trail in Moab, Utah.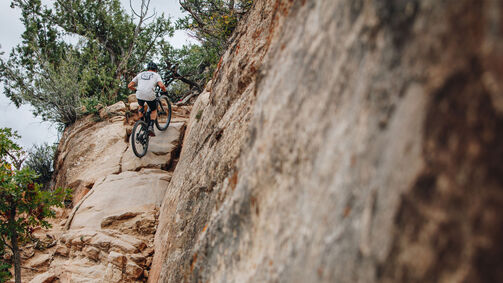 "The Whole Enchilada" is one of mountain biking's most epic trails—attracting expert-level riders from around the globe to Moab, Utah, to challenge its 8000-plus feet of descending over rugged and raw terrain littered with rock drops and boulder fields. But no one has ever tried to ride up every inch of the trail—until now. Equally mentally challenging as physical, "8600FT" is a 1.5-hour feature-length film of Braydon Bringhurst's attempt to summit "The Whole Enchilada."
One Bike. Any Trail.
Agile, capable, and most importantly, fun, Spectral 29 is sure to make your riding experience unforgettable. If you're looking for a versatile mountain bike ready for any trail, the aggressive geometry will give you the control you need to ride any trail any way you want.
The very first episode of the Impossible Route covered the daring attempt to traverse Death Valley by gravel bike. Deep sand, grueling heat, and desert survival shocked cyclists Jeremiah Bishop and Tyler "Vegan Cyclist," and left them with many important lessons. With bags packed, lessons learned, and a new challenge in mind, our intrepid duo are making a return to the desert for the start of the second season of the Impossible Route.