Taking Flight—HBCU St. Augustine's University Sends First Athletes to Race
The students of St. Augustine's University, an HBCU, after months of training and preparation finally had their chance to open up their wings and compete in their first ever bike race. Competing in the race was their 'Bahati Moment;' it was the first time a HBCU has sent athletes to compete in sanctioned cycling events, signaling a bright future for cycling.
Following in Bahati's Steps
For Rahsaan Bahati, a black kid growing up in Compton, California, being a professional cyclist was as far away from reality as Los Angeles was to New York City. Bahati was introduced to cycling at the young age of 13, and quickly soared to the peak of the sport within the U.S., winning national titles and joining the pro ranks. Bahati's success by itself proved how incredible of a cyclist he is, but the importance of his presence in the sport would only dawn on him years after his wins.
"People say, 'You laid the groundwork.' I feel like I could have done a lot more if I had that conscious mind that what I'm doing right now is going to have a direct effect on what happens 10, 15, 20 years from now," said Bahati, who now leads the Bahati Foundation and its programs focused on uplifting inner-city youth.
Eight months ago, I barely knew how to pedal a bike and now I'm competing in races.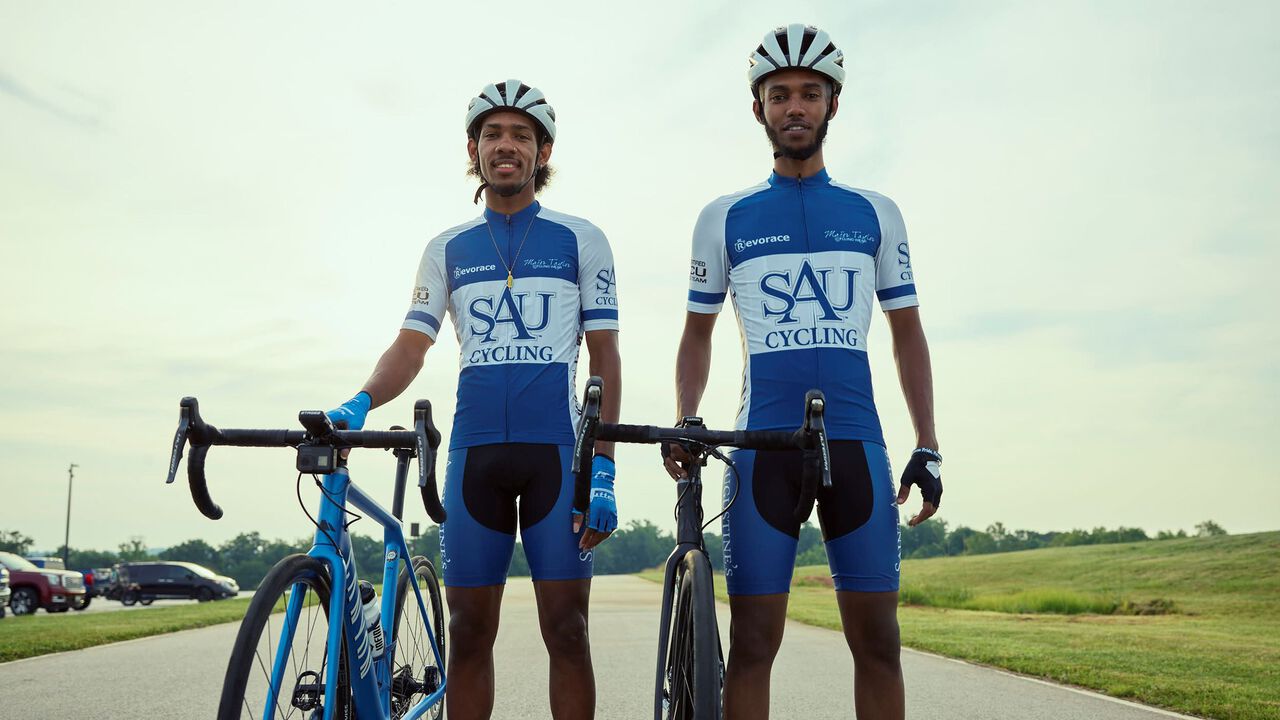 Experiencing a Bahati Moment
Perhaps the young cyclists at St. Augustine's University in Raleigh, North Carolina, are having their Bahati moment. Or their Major Taylor or Nelson Vails moment.
There, at the Rock Hill Outdoor Center in Rock Hill, SC, SAU athletes Brandon Valentine-Parris and Finote Weldemariam would compete in their first sanctioned race. It was only a 50-minute, 20-lap event. But the moment felt bigger somehow.
"Eight months ago, I barely knew how to pedal a bike and now I'm competing in races," said Valentine-Parris. The two athletes were coached by Canyon's Jeremiah Bishop, who was on hand and ready to offer guidance to his athletes as they took to the line.
On that single day in Rock Hill, these two athletes made history for themselves and the sport, offering an auspicious look at the future of cycling. "I think just being there and having the representation, that's going to change everything," said Bahati. "Not all of them will go on to be bike racers, which is absolutely OK. But I sure hope they can influence others to be a part of this sport — from the competitive side or the business side."
You'll need to watch the video here to see the final results, but in the end, it wasn't about winning — at least, not this time.
St. Augustine's Cycling team update: we asked five members of the Falcon cycling team to give us a glimpse into their daily lives on campus. In these intimate vlogs submitted by the student riders, we see how they are juggling the demands of school work, athletic training and the tribulations of coming into your own as a young adult.

4/11/21 Canyon

In Episode One, we met the young riders from St. Augustine's that are on a mission to blaze their own path in collegiate cycling and inspire other riders at HBCUs around the country to ride. But they were not the first on this path. Nelson Vails, similar to the legendary Major Taylor, made a name for himself on the world scene with an Olympic medal in 1984 racking up a series of firsts along the way.

1/24/21 Canyon

Inspired by Major Taylor, one of history's great cycling legends, St. Augustine's University is stepping out of their comfort zone to challenge the cycling status quo as the first Historically Black College and University to field a collegiate cycling team.

12/17/20 Canyon