30 Day Return Policy

If you're not 100% satisfied with your Gear purchase, return it within 30 days in an unused condition for a full refund. The 30 day period starts once you receive your goods and is complied with by return of the goods to us within 30 days.

2-Year Guarantee

We take responsibility for defective products. If you notice any inherent issues with your Gear within a two-year time frame of receipt, please fill out a Guarantee Request under Customer Service below.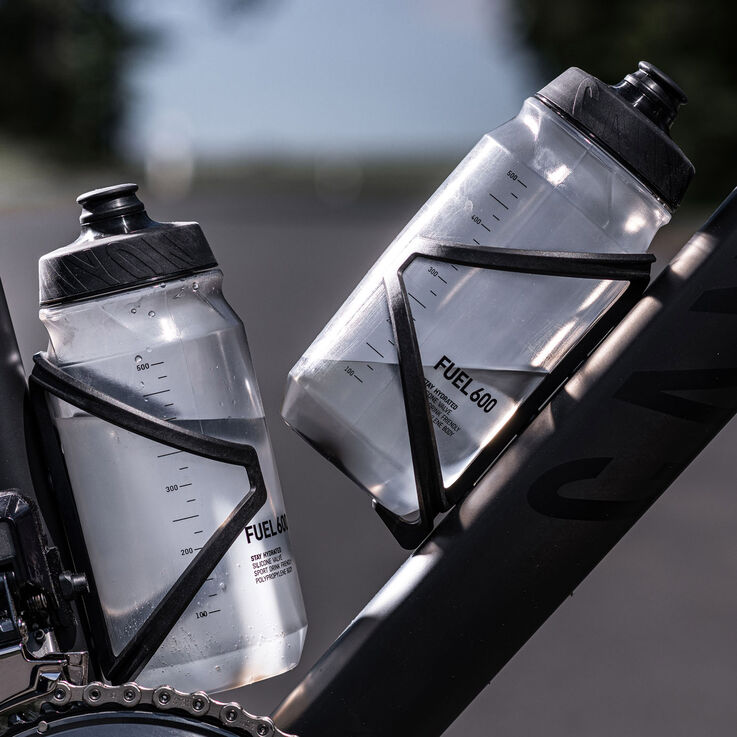 Canyon CF SL Bottle Cage Finding the winning combination of low weight, stiffness and strength is not easy, but something we at Canyon have consistently achieved with our bike platforms. When seconds and grams matter as much as functionality, the new Canyon CF SL Bottle Cage is here to blend maximum holding power with minimal weight. Constructed from a carbon fiber injected composite material, the cage weighs just 20g with its streamlined design compatible with a range of Canyon bikes including the Ultimate, Aeroad, Lux, Grail, Endurace, Exceed, Inflite and Roadlite. Whether your riding takes you across smooth tarmac, down rocky trails or on gravel adventures, the CF SL Bottle Cage will hold your bottle firmly and keep your bike's weight low.
Installation information
Do not over tighten the screws - you will damage the cage

It is recommended to use a drop of medium strength Loctite and to tighten the screws only hand-tight (1.5 Nm). Meaning, grip the allen wrench so your hand is at the screw (not way down at the end of the wrench) and use your hand/wrist strength to tighten (not your arm strength).

If you have any concerns or questions please take your cage to be installed by a bicycle shop or professional bicycle mechanic.
Average customer rating
4.6 out of 5
130 customers reviewed
Canyon CF SL Bottle Cage Gallery
Features
Carbon injected material weighs just 20g
Powerful hold keeps bottle firmly in place wherever you ride
Excellent strength to weight ratio
Streamlined design compatible with a range of Canyon bike platforms including Ultimate, Aeroad, Lux, Grail, Endurace, Exceed, Inflite and Roadlite
Contents
1 x Canyon CF SL Bottle Cage
2 x Screws (black)
2 x Plastic Washer (black)
We're in Control
Our business model gives us the advantage of knowing exactly where our products come from, how they are made and what they are capable of. Canyon products are exclusively available at Canyon.com, so you can trust the quality you are getting.
Proposition 65 Warning
Warning: This product contains chemicals known to the State of California to cause cancer and birth defects or other reproductive harm.
Production Variations
We strive for complete accuracy with our technical specifications. However, specifications are subject to change without notice. Variation between posted information and actual specification does not warrant any changes, modifications, or exchanges to any products affected by a variation. If we may provide further details, please contact our Canyon USA Service Team.
Ready to ride delivery with velofix DIRECT
With velofix DIRECT, you can schedule delivery directly to your home or office. A professional technician can deliver, build, and dial in your e-bike.