What is a downcountry bike?
What happens when cross-country speed meets trail bike handling? Say hello to downcountry.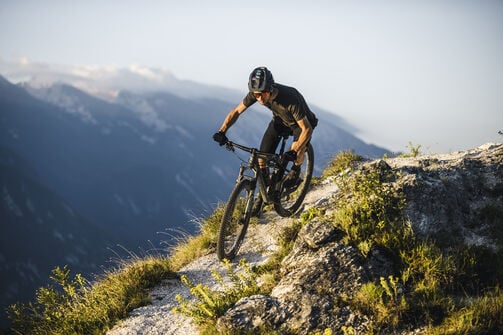 Have you ever been left behind on the climbs, even though you can keep up on technical singletrack? Or, on the other hand, found that your bike is too skittish when riding your favourite technical trails flat out?
If so, your mountain bike could be holding you back because it's not hitting that sweet spot of lightweight climbing efficiency and proper downhill chops.
You want to get it just right.
When it comes to climbs, full-suspension mountain bikes with loads of travel can soak up the energy you use when pedalling, making climbing slow and exhausting.
Locking out shocks and forks can help, but bike frames and components that are designed to repeatedly withstand big hits are almost always going to be a bit heavier than bikes designed with more climbing in mind. And that extra weight? It needs to be propelled by you.
When it comes to descending, some hardtails and light, short-travel, full-suspension bikes dish out a harsh, unforgiving ride that can have you pinballing across the trail.
To get back in control, you'll reach for the brakes and slow everything down to a manageable, but less exciting, speed.
If either one of those less-than-awesome scenarios sounds familiar, a downcountry bike might just be the mountain bike you've been waiting for.
Downcountry bikes are not cross-country bikes
But they kind of are.
Take the featherweight frame of a full-suspension, cross-country mountain bike. Change the angles slightly for more space between the wheels to increase stability. Add longer 120mm forks, dropper posts, wider, beefier wheels and a confidence boosting cockpit you'll get a very versatile mountain bike.
A bike that's fun on technical singletrack and lightning quick on pedally trails and climbs.
A bike that's fast, hilariously fast.
A bike that's efficient over the long haul.
A bike that transforms ho-hum trails into far more exciting rides.
Where you might have taken a tentative route around a set of roots or rocks, now you can go over them. Or, you'll have to think more carefully about line choice rather than blasting through the undergrowth on the 'Enduro line'.
You'll feel totally connected to what's under your tires without feeling like you're barely in control.
But that's not to say you can't race a downcountry bike.
Get one of these between the tapes of a cross-country course and you'll definitely be riding a contender. Especially when you drop the seatpost and destroy your competitors on the descents.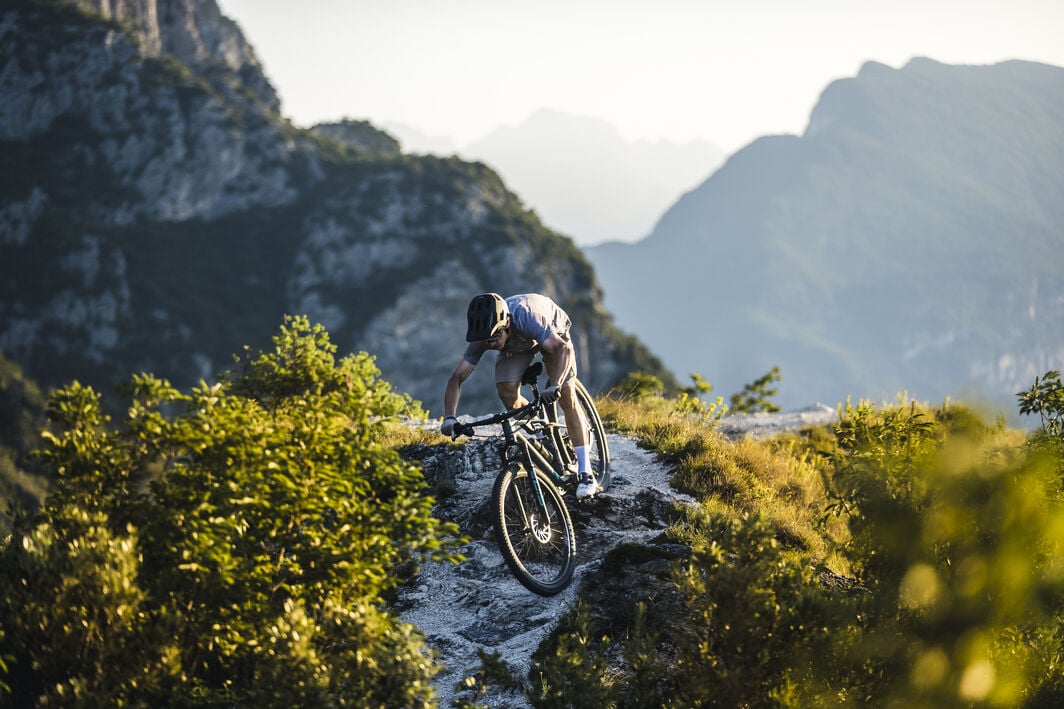 Downcountry bikes are not trail bikes
But they sort of are too.
You see, trail bikes are great at handling rough terrain.
Throw a full suspension bike with 140mm rear shock and 150mm fork at a trail and you have enough forgiveness to think about the next two features you're going to ride. But shouldn't you be concentrating on the one you're on right now?
With a downcountry bike, things are a lot more immediate.
Corners come at you fast.
So you'll have to take a more considered, refined approach.
And being more refined will make you a better rider.
A better rider who now has to wait for their friends at the top of all the climbs.
Epic energy efficiency
The big selling point of downcountry bikes, however, isn't to make you a better rider, or to give you more time to share scenic instagram posts #KOM, those are just byproducts.
Downcountry bikes are all about being as efficient as possible so that you can ride fast and far.
You'll save energy on climbs.
You'll be comfortable on descents.
Even flat sections will feel like you have a massive tailwind.
You can broaden your horizons to ride trails that you thought were too far to get to without a motor. Or go for an epic, all-day ride and not feel tired, even when it's not day anymore.
The Lux Trail, Canyon's downcountry bike
The Lux Trail is our first downcountry bike.
And we think we nailed it.
We've taken the podium-topping carbon fibre frame of the Lux World Cup, with its insanely efficient pedalling platform and relaxed the head angle a massive 2.5 degrees, boosting your confidence and control on steep descents.
Then we fitted a 120mm fork, a short, 60mm stem and wide, 780mm bars to give you time to pick your line and forgiveness if your choices are somewhat suspect.
And bingo! We have a full suspension 29er that's as easy to ride uphills as a hardtail. One that wastes none of your pedalling power and is burly enough to tackle rock gardens without fuss.
Want clever features to make long rides better?
Oh, OK then.
How about space for 2 large water bottles in the frame so you can leave a hydration pack at home?
And a superlight, integrated chain guide to keep everything in place when the going gets rough.
Even home mechanics will love the Lux Trail. Internal cable guides make for a sleek machine and (bonus) help keep your gear shifts nice and crisp.
Best yet, our fully guided internal routing makes changing cables and brake lines a breeze. No blindly fishing about your frame with a hook or magnet while cursing a blue streak required.
S'OK, you can thank us later.
Shop our latest range of the Canyon Lux Trail. Designed for comfort and speed.
View all
We've launched our new downcountry mountain bike, but how does it compare to our XC race bike?