Canyon Speedmax Seat Post Bottle Adapter
Availability:
Coming soon
Coming in Spring 2022
Current delivery times information.
Read more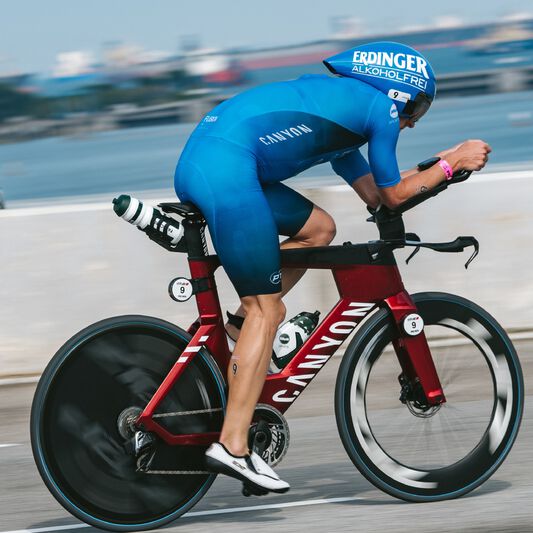 Canyon Speedmax Seat Post Bottle Adapter An updated version of our proven Tri Bottle Adapter, the updated Canyon GP0221 Speedmax Tri Bottle Adapter is proof that hydration and nutrition does not have to come at the cost of aerodynamics. Offering three separate mounting options, all placed in central positions for aero optimization, this adapter lets you store sufficient liquid on the bike to keep your focus on putting out the power even over long distances.

The central mounting option of only one bottle cage is not compatible with the Canyon Bottle Cage CF SL.
Average customer rating
4.3 out of 5
16 customers reviewed
Features
Updated version of proven Tri Bottle Adapter
Three separate mounting options
Placed in central positions for aero optimization
Contents
1x Canyon GP0221 Tri Bottle Adapter
Compatibility
Speedmax CF Disc (R073)
Speedmax CF SLX Disc (R091)
Speedmax CFR Disc (R085)
Attention: Not compatible with our "Canyon CF SL Bottle Cage"
We're in Control
Our business model gives us the advantage of knowing exactly where our products come from, how they are made and what they are capable of. Canyon products are exclusively available at Canyon.com, so you can trust the quality you are getting.
Proposition 65 Warning
Warning: This product contains chemicals known to the State of California to cause cancer and birth defects or other reproductive harm.
Production Variations
We strive for complete accuracy with our technical specifications. However, specifications are subject to change without notice. Variation between posted information and actual specification does not warrant any changes, modifications, or exchanges to any products affected by a variation. If we may provide further details, please contact our Canyon USA Service Team.
Ready to ride delivery with velofix DIRECT
With velofix DIRECT, you can schedule delivery directly to your home or office. A professional technician can deliver, build, and dial in your e-bike.