A new worldwide MTB community
[ C L L C T V ]
The Canyon CLLCTV brings together mountain bikers of all levels — from amateurs to pros — to unite, support and inspire one another.
Downhill, Trail or Enduro — the CLLCTV gathers committed mountain bike riders like you with fans and pro athletes who share one obsession: Searching for that perfect trail that seamlessly connects every turn, berm, gap and jump into the ultimate ride.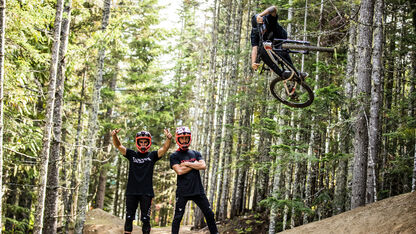 Pro Riders
From downhill racers Troy Brosnan and Tahnée Seagrave to progressive enduro riders like Braydon Bringhurst and YouTube sensation Fabio Wibmer, the CLLCTV embodies mountain biking's hardest-riding athletes.
Everyday Riders
It doesn't matter if you're a trail shredder, downhill racer or enduro rider. To be part of the CLLCTV, the only thing that matters is your commitment to the pursuit of pristine singletrack, flowing jumps and perfect berms.
Pedal efficiently to the top of the trail before turning to attack fast, technical descents. These bikes are built for Enduro racing and are ready for anything.
ENDURO BIKES
For you, there's only one direction to ride: Downhill and as fast as possible. Find that perfect line with our award-winning downhill bikes.
DOWNHILL BIKES
Equally at home on your after-work ride, technical trails, and epic alpine adventures — if you need a truly versatile mountain bike, you need a trail bike.
TRAIL BIKES